In the bustling metropolis of Delhi, where every second counts, having access to reliable ambulance services is paramount. In our article, we are going to present you the "Top 10 Ambulance Service Providers in Delhi." These are the dedicated teams that stand ready to respond to medical emergencies swiftly and efficiently, ensuring the well-being of the city's residents.
From basic life support to advanced medical care and even air ambulance services, this list encompasses the best providers equipped with skilled professionals and cutting-edge equipment. Read this article to the very end for information about the "Top 10 Ambulance Service Providers in Delhi", as we explore these essential lifelines that play a crucial role in safeguarding the health and lives of Delhi's diverse population.
So, let's start-
Top 10 Ambulance Service Providers in Delhi
We have listed the Top 10 Ambulance Service Providers in Delhi below and also mentioned why they are listed in this list.
1. GoAid Ambulance Service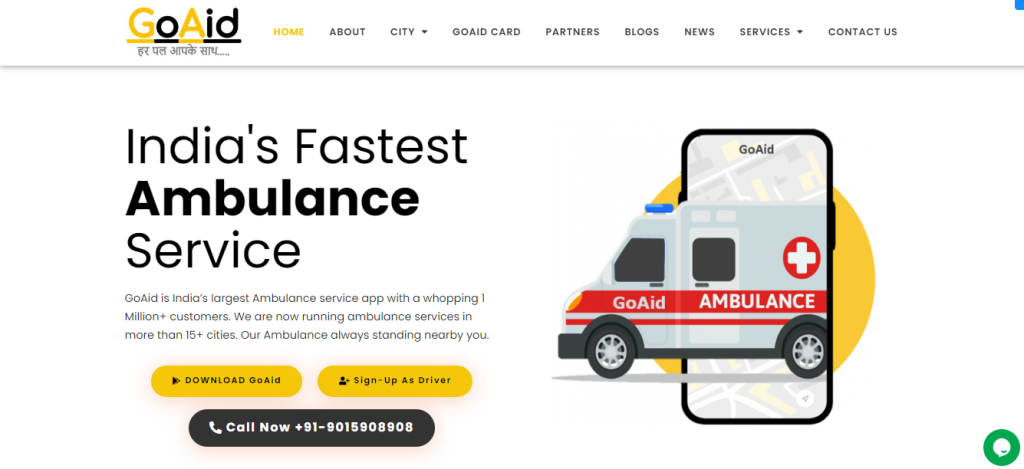 Historical Significance of GoAid Company
It emerged during a time when India lacked reliable ambulance services apart from the government-run 108 service. By 2020, GoAid Ambulance Service had served over 10 lakh patients.
Innovative Firsts
Pioneered the "10-Minute Promise," guaranteeing swift ambulance response.
Offered safe private ambulance services, surpassing the 108 government service.
Introduced online ambulance booking, a first in India.
Provided a range of ambulance services to cater to diverse medical needs.
Operated 24/7 to ensure assistance round the clock.
Committed to affordable ambulance services, making healthcare accessible.
Mission
GoAid Ambulance Service's mission is to provide rapid ambulance services across India, ensuring a 10-minute response time for any location. Their goal is universal access to emergency medical transportation.
Vision
The company aspires to expand its services internationally, embodying India's cultural ethos of "The whole world is one family."
Services provided by GoAid
GoAid offers a comprehensive suite of ambulance services, including:
Advance Ambulance Service
Train Ambulance Service
GoAid Ambulance Service's primary aim is to provide swift, reliable medical services to all corners of India, preventing any loss of life due to a lack of ambulance availability. Their commitment to excellence has set new standards in emergency healthcare services, establishing them as leaders in India's healthcare sector.
Also Read: When was the first ambulance service started in India?
2. Yadav Ambulance Services
About Yadav Ambulance Services in Delhi
Yadav Ambulance Services, located in New Delhi, has earned the trust of patients and boasts a proven track record in the medical and hospitality services sector. They provide top-notch 24-hour medical and road ambulance services in various parts of Delhi, including East Delhi, South Delhi, and Central Delhi. Their dedicated team comprises qualified doctors, nurses, and other skilled personnel who are driven by passion and commitment to deliver humanitarian ambulance services.
The hallmark of Yadav Ambulance Services is their cost-effective yet compassionate approach to healthcare. Their ambulances are equipped with the latest modern medical equipments. These Equipments are quit essential for patient care. The medical team is highly efficient and responsive, ensuring 100% dedication to those in need. Yadav Ambulance Services extends its services beyond conventional medical transport, offering funeral services across Delhi NCR, catering to various religions and castes, and covering destinations ns throughout North India.
Also Read: How to Choose the Right Ambulance Service for Your Medical Needs
3. Marine Life Care Ambulance
About Marine Life Care Ambulance in Delhi
Established in 2007, Marine LifeCare Ambulance Services is a prominent player in Delhi's Ambulance and Mortuary Van sector. They offer a comprehensive range of ambulance services, including ICU ventilator ambulances, dead body transport, coffin box ambulances, and more, all at cost-effective rates.
4. Delhi Ambulance Service
Delhi's ambulance services are crucial for providing swift and life-saving assistance during medical emergencies:
Government Ambulance Services
Delhi's government-run ambulance services, like Delhi CATS (Centralized Accident and Trauma Services), operate with both basic life support (BLS) and advanced life support (ALS) facilities. They respond to emergency calls promptly.
Private Ambulance Services
Several private ambulance service providers in Delhi offer a range of ambulance types, including basic and advanced life support. They are available for various medical emergencies, accidents, illnesses, and hospital transfers.
Helpline Numbers
The government-managed emergency helpline "108" in Delhi dispatches ambulances rapidly when needed, ensuring quick medical assistance during crises.
App-Based Services
Some private ambulance providers have introduced mobile apps, simplifying ambulance requests and offering real-time tracking of ambulance locations for user convenience.
NGOs and Charitable Organizations
Certain NGOs and charitable entities in Delhi operate ambulance services, often providing free or subsidized emergency medical transportation to those in need.
Specialized Ambulances
Delhi do have specialized ambulances for some specific needs in the field of medical requirements of the patients. This also includes neonatal ambulances for newborns, cardiac ambulances for heart-related emergencies, and more. This ensures tailored care during critical situations .
Hospital-Affiliated Services
Many hospitals and medical facilities in Delhi maintain their ambulance services. They facilitate efficient patient transfers to and from healthcare institutions. Also, they support comprehensive medical care in the city.
Also Read: Top Factors to Consider When Searching for an Ambulance Near Me
5. Jitender Ambulance Service
About Jitender Ambulance Service in Delhi
Jitender Ambulance is a trusted provider of ambulance services in Delhi. This Ambulance Service offers swift and efficient medical transportation. Their services extend beyond Delhi to destinations like Patna, Bihar, Punjab, Uttarakhand, Rajasthan, and Haryana.
With a strong reputation for punctuality and effectiveness, they has garnered praise for being one of the most reliable ambulance services in Delhi.
6. Aggarwal Ambulance Service
About Aggarwal Ambulance Service in Delhi
Aggarwal Ambulance Service is a renowned name in the realm of patient transportation in India. With a strong presence since 2001, they have excelled in providing swift and efficient ambulance services to transport patients from any location in the country to hospitals. Their team consists of specially trained medical professionals, including emergency service and intensive care experienced physicians, anesthesia technicians, and nurses. Their ambulances are equipped with state-of-the-art intensive care capabilities, meeting international standards and ensuring patients are reached in the shortest time possible.
7. Lakshya Rescue Air Ambulance Service
About Lakshya Rescue Ambulance Service in Delhi
Lakshya Rescue Air Ambulance Service is your trusted partner when it comes to private ambulance services. With a dedicated mission to provide rapid assistance during life-and-death situations, they have built a vast network of ground and air ambulances spanning the entire nation.
Also Read: Solving the Mystery of why an ambulance is written inverted?
8. EMSOS Air Ambulance Service
About the Company
EMSOS stands as one of India's premier air ambulance and medical evacuation companies, specializing in the retrieval and repatriation of critical patients, both domestically and internationally. Their services adhere to global standards and are administered by highly experienced and qualified medical personnel and nursing staff.
Saving Lives Around the Clock
EMSOS takes immense pride in their lifesaving mission, operating round-the-clock, 365 days a year. Their commitment to saving lives is unwavering, and they provide this invaluable service with utmost dedication. In addition to their core services, EMSOS offers expert advice and assistance through their Alarm Center, staffed by medical professionals who are available 24/7.
9. Panchmukhi Air Ambulance Service
About Panchmukhi Air Ambulance Services
Welcome to Panchmukhi Ambulance Services, India! We are delighted to introduce you to Panchmukhi Air and Train Ambulance Service Pvt Ltd, a global ambulance service provider dedicated to serving people in need around the world. Geographical boundaries do not limit us, as our good vibes extend across the globe.
Based in Delhi, we have expanded our ambulance services far beyond any specific location. Panchmukhi is a Delhi-based ambulance service provider, but our reach spans the globe. With a team of expert medical consultants and industry-experienced professionals, we have years of experience in the competitive field of emergency medical and ambulance services.
10. Jyoti Air Ambulance Service
About Jyoti Air Ambulance Service
In Delhi, Jyoti Air Ambulance Service is a name synonymously used for the best and unparalleled medical transportation service providers. This Ambulance service takes immortal pride in being a lifeline for needy patients.
Jyoti Air Ambulance Service is your dedicated friend in critical times when you need JAS the most. JAS ensures that you or your loved ones receive the best possible medical care during emergencies.