10 Reasons to Choose GoAid Ambulance for your Medical Transport: GoAid ambulance service provides responsive and efficient ambulance service in almost all major cities in India. GoAid also have a variety of Ambulance Service Available 24/7 all the time whenever you require it.
Now, There is a question that may raise in your mind that Why I Need to Choose GoAid Ambulance for My Medical Transport? This question is quit valid and this is why we have answer this question by our this blog by mentioning all the reasons why GoAid is best for your medical needs.
In this blog, we have dedicatedly provided 10 Reasons to Choose GoAid Ambulance for your Medical Transport. After reading this blog, you'll get to know the answer of your all the question related to the Best Ambulance Service in India.
So, let's Start-
10 Reasons to Choose GoAid Ambulance for your Medical Transport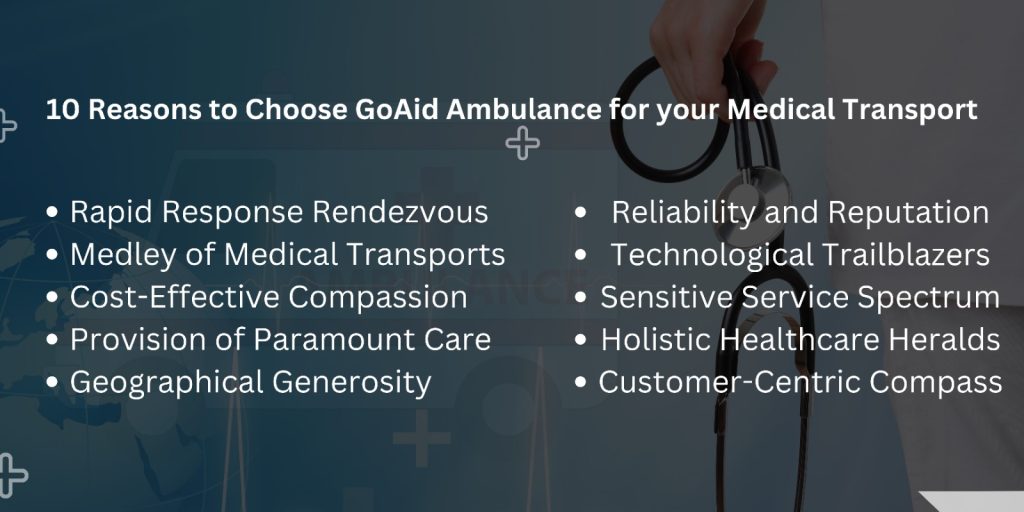 We have listed those 10 reasons which put GoAid ahead of all ambulance service of the world. You'll be trusting the GoAid with your life after reading these reasons:
1. Rapid Response Rendezvous
GoAid promises the response of 10 minutes. The moment you click on the app for book our ambulance service, we dedicate ourselves to reach at you within 10 minutes of it. This rapid response streamlines us for our customers.
2. Medley of Medical Transports
Goaid is dedicated to provide all kinds of ambulances for patients. From standard ambulances to oxygen-equipped units, ICU ventilators ambulance, Dead body ambulance and air ambulances, GoAid offers all kind of ambulance services to meet varied health needs.
3. Cost-Effective Compassion
If you are willing to book GoAid Ambulance Service for your need then  you are going to experiencing the quality medical transport without breaking the bank. You may thank to GoAid's commitment to affordability and excellence after reaching at hospital timely.
Also Read: Tips for Administering First Aid Before the Ambulance Arrives
4. Provision of Paramount Care
You can rely on our trained professionals and state-of-the-art equipment on board which is placed for you to have an first-rate medical care en route.
5. Geographical Generosity
GoAid is spreading its network to help as many people we can. However, GoAid's expansive network in major Indian cities such as patna, Gurgaon, Delhi, Chandigarh, Jaipur, Hisar, Kolkata, Mumbai and many more. By this, We ensures medical help is always within your reach, wherever you may be.
6. Reliability and Reputation
We are serving people form last 5 years. We have served more than 5 7 lakh people During COVID. You can put your trust in our half of a decade of unwavering service, backed by glowing testimonials from satisfied patients and healthcare professionals alike.
Also read: Solving the Mystery of why an ambulance is written inverted?
7. Technological Trailblazers
We allow users to book our ambulance service by some clicks on your mobile app. It just going to take maximum 2 minutes to download our mobile app (if you are using 4G at least) & booking an ambulance according to your needs combine. Leverage GoAid's user-friendly mobile application to book ambulances. You can use our app for track arrivals, and receive updates in real-time.
8. Sensitive Service Spectrum
When one faces medical emergency, then need of care & respect is essential for each patient. You are going to experience compassion and respect, especially during sensitive situations like the transportation of critical condition patients. Also, we always pay respect deceased individuals during transporation.
9. Holistic Healthcare Heralds
With GoAid, you are going to receive comprehensive care that caters to both emergency and non-emergency medical needs. With this, we are going to help you with all kinds of need with our ambulance services.
10. Customer-Centric Compass
The work of GoAid Ambulance, is completely toward providing best of the best medical transportation help to Customers. GoAid places the needs and comfort of patients and their families at the forefront. By doing this we are offering clear communication, empathy, and professionalism throughout the journey.
Also Read: When was the first ambulance service started in India?
FAQ's 10 Reasons to Choose GoAid Ambulance for your Medical Transport
Q: What geographical areas does GoAid Ambulance serve?
A: For now, there are many major cities which covered by GoAid ambulance Service, including Delhi, Jaipur, Gurugram, Patna, Mumbai, and Hisar.
Q: Does GoAid provide affordable ambulance services in India?
A: Yes, GoAid offers government approved affordable prices for our patients. So, our patients won't think second to hire our ambulance service just because of higher charges.
Q: How does GoAid Ambulance ensure a quick response time?
A: GoAid Ambulance is committed to reaching the patient's location within 10 minutes of booking an ambulance. By this committed initiative, we are proudly ensure the quick and timely response for our ambulance service.
Q: Are there specialized ambulance services available with GoAid?
A: Yes, GoAid Ambulance provides specialized options like Air Ambulance service, mortuary ambulance, deadbody freezer ambulance, ICU ambulance, Advance Ambulance Services and many more.
Q: How does GoAid Ambulance use technology to enhance the patient experience?
A: GoAid Ambulance leverages technology through its mobile application. Users are allowed to use download GoAid Mobile Application and use that application for free. Also, they can book any kind of ambulance service without calling our helpline number of 9015908908. Also they can use that application to track their ambulance service.
Read Our Latest Articles: